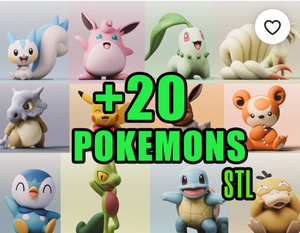 INSTANT DOWNLOAD. You will get a txt where you will find a link to google drive, Open it and simply download the models to your pc.
This is the perfect pack if you are looking for stl files related to pokemon and for a good price.

Package content:

- Charizard
- Charmander
- Chikorita
- Cubone
- Eevee (2 versions)
- Jigglypuff
- Jirachi (2 versions)
- Mew
- Mudkip
- Ninetales
- Pachirisu
- Pikachu (3 versions)
- Piplup
- Psyduck
- Squirtle
- Teddiursa
- Treecko
- Umbreon
- Vulpix
- Wigglytuff


**3D Digital Files for printing in your 3D Printer. Instant download through Google Drive. INSTANT DOWNLOAD**


EVERY PHOTO USED IN THE LISTING IS INSIDE THE PACK.
IF YOU DON'T FIND THE STL THAT YOU REALLY WANT JUST MESSAGE ME AND I'LL HELP YOU ASAP :)


Mega pack STL files, more than +20 stl files! FOR LESS THAN 29.99!



When your payment is confirmed you'll have access to download a txt with the links from STL.

***For personal and commercial use!!!***



The best premium STL designs always in stock, make your order don't miss it.
3D printer file in STL format (It is not printed figure, it is only the digital file)

Digital merchandise cannot be returned, exchanged or canceled.
Please contact me if you have any questions before or after your purchase.