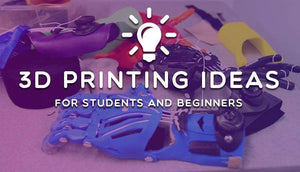 Requirements
You should be able to use a PC on a beginner level.
Description
Welcome to the world of 3D printing. In this 3D printing course we'll be going over the basics of the 3D printing world. This course is designed for beginners to gain an understanding of how a 3D printer works, and the process of going from a blank 3D design canvas, to a full physical print out.size 1Hour 30 minute video
What you'll learn
Design their own 3D models in TinkerCAD.
Master proper "slicing" software settings for best print results.
Effectively level their print bed.
Set up their printer for proper first layer adhesion.
Use "slicing" software for 3D printing at a basic level.
Find free ready-made files to download and print themselves.
Get recommendations on which printer and "slicing" software to start with.
Course Content
Introduction.
Creating Your Own 3D Design in TinkerCAD.
Slicing the 3D Object.
Printing the Object.
Final Thoughts.