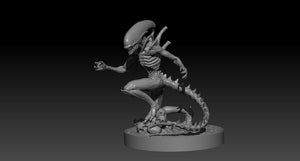 HISTORY OF XENOMORPH
Xenomorphs are an extremely aggressive race of extraterrestrial beings. They are intelligent, but in a way that differs from human intelligence. They are enemies for any race, posing extreme danger for any other kind in the galaxy. That is what makes them so interesting for the Yautja, who deserve respect as they have a moral code and only hunt the most dangerous creatures. Unlike them, Xenomorphs do not have any other goals besides spreading their presence and destroying any form of life they face. At the same time, Xenomorphs have a clear social hierarchy based on castes, which is similar to that of wasps or bees. At the top of the pyramid is the Queen - the key figure in the reproduction of the race, to whom all other Xenomorph castes are subject. Despite their obvious bloodlust, they do not always try to kill their victims. Population growth is a top priority for them, so they capture their victims and take them to the beehive, where they are used as bearers of new Xenomorphs.
ABOUT THIS 3D FIGURINE
The model is saved in STL files, a format supported by most 3D printers. 
FDM version features:
- Contain 24 parts;
- Made with Locks. One part of Lock (2_Ge_lock_7S_(x3))) you need to print 3 times;
- Made with max detalization;
- Platform made with Ovomorphs;
- All parts are divided in such way that you will print them with the smallest amount of supports.
DLP/SLA version features:
- Same as FDM but smaller, also made as 12 parts;
SLS version features:
- Same as SLA but made as 1 part for economy your material;
All STL files for 3D printing have been checked in Netfabb and no errors were shown.
Note: Before starting 3D printing the model, read the Printing Details for CURA 3.4.1. or Simplify3D Software.
There are 24 parts for FFF/FDM version, 12 parts for DLP/SLA version and 1 part for SLS.
Scale: Alien height is 2225 mm. The scale of this model made in proportion to it. 1/8 for FDM version and 1/16 for SLS/SLA version.
FFF/FDM version dimensions:
After being printed will stand - 317 mm tall, 183 mm wide, 197 mm deep;
SLA/DLP/​SLS version dimensions:
After being printed will stand - 159 mm tall, 92 mm wide, 99 mm deep;
- Has a few details, to keep printing costs down.
WHAT WILL YOU GET AFTER PURCHASE?
- STL files of Alien Xenomorph 3D Figurine for 3D printing which consist of 37 parts;
- 3 versions of files for this model for FFF/FDM, DLP/SLA, and SLS;
- High-poly detailed figurine of Alien Xenomorph;
- Detailed settings that we provide for Cura 3.4.1. and Simplify3D for the best print;
- Full technical support from the etzaza Support Team.
You can get Model of Xenomorph for 3D Printing right now! Just click the green Buy button in the top-right corner of the model's page. You can pay with PayPal