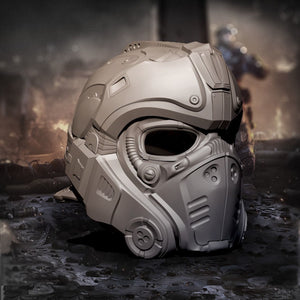 Clayton Carmines helmet from Gears of War.
I've tried to include multiple variations to faciliate different methods of printing. This includes a helmet split into seven pieces (front left and right, top left and right, back/sides left and right, and chin), one split into four pieces (front, top, back/sides, and chin), and a full helmet.
Currently it is scaled to be 10" (254mm) From top to bottom, but I would recommend scaling yourself to ensure proper fit.
Printing orientation and slicing is up to you.
Please do not share or resell this model.