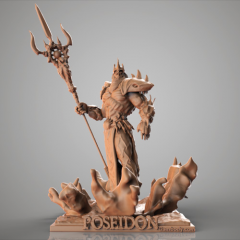 ******You only buy the files to be able to print it personally on a 3d printer, you do not buy a finished product*****
Instant Download
Your files will be available to download once payment is confirmed
Here's another video game god made ready for 3D printing. Poseidon 3D model features the might of the God of the Oceans.
Reining on the floor of the ocean, Poseidon dreams to plunge the entire world in wrathful seas, after having lost the competition for the city of mankind over to Athens.
Nevertheless, Poseidon has the sea creatures at his back and the sea tides at his command as allies and fearless companions in his rage.
Poseidon 3D model is stylized according The model is created in the maya 3D modeling program and is converted into STL file format. The STL file has undergone checking and correction in Netfabb, to ensure a seamless and accurate 3D printing.
The video game hero for 3D printing is provided with a support base and shows the restless waves at his command.
After having been 3D printed, the 3D model will stand 143mm wide, 186mm tall, and 144mm deep. The model is perfect as a table top piece or as a collectible.
Printing time: 1 day 10h
Printing material required: 22.70m
.
*Please read the Printing Details information before starting to actually 3D print the model and make sure that your slicing program is configured correctly.
Buy Poseidon 3D model STL file by clicking the green Buy button in the top right corner of the 3D model's slider. Provide your PayPal or credit card details and download the STL file of the mighty Poseidon 3D model.