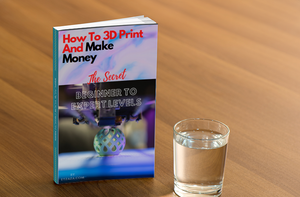 Delivery

ONLY 31 COPIES OF THIS Guide BOOK  WILL BE SOLD 
Instant Download
Your files will be available to download once payment is confirmed
Description:
The aim of this guide is to teach you the fundamental concepts of how to 3D print, and provide you with the tools and resources you need to get started and make an informed choice about buying your first 3D printer. You will learn the basic history of 3D printing, the software that powers it, how the hardware works, and other crucial information that will help you get started.This guide will be updated over time with new content, images, and embedded.
Start Making Money Now:

Because of the evolution of 3D printers, various ways to earn money popped up. With this in mind, let us take a look at the best strategies you can leverage using this device.