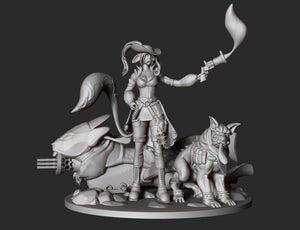 Wild West Girl and her Dog and Bike Ready for 3D printing! Her body contains few separated pieces for ease of 3d printing.
Hope to help those who need it. When you buy this model, you get the original ZBrush file and can modify it if you want, the OBJ, fbx and STL files for printing.
It would be most appreciated that you share where you use my Daenerys Targaryen statue and credit me on any work that you do, using my Daenerys Targaryen statue. Also if you're satisfied with the Daenerys Targaryen statue, please don't forget to rate and leave me a decent review.